Nylon Filament with Water Absorbency, Antistatic Property and Tactile Coolness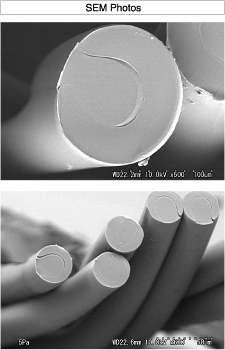 Against the backdrop of growing market interest in beauty, health and safety, the "Cool Biz" summer dress code and various other trends redirect consumer attention to fabrics to pursue comfort within clothing.
AQUSIA is a partially-open nylon filament with sheath-core structure, developed with conjugation and polymerization technologies of KB SEIREN. Thanks to the special chemical compound used in the core, this multi-functional filament, designed to provide comfort within clothing, is superbly cool to the touch while also possessing excellent water/moisture absorbency and antistatic property.
For the creation of AQUSIA, high levels of water absorption speed, hygroscopicity, antistatic property and tactile coolness were added as new functions for enhanced comfort within clothing, without causing any deterioration of the benefits of conventional nylon.
In the form of textiles, AQUSIA will be marketed under the brand name of "BISCOOL." Various types of woven/knitted fabrics, including composite products with such materials as polyurethane, cotton and polyester, will be created and launched for a wide range of applications.
Technical Features
Partially-open conjugate nylon filament.
The special chemical compound in the core provides water/moisture absorbability, antistatic property and a cool feel.
Product Features
Excels in tactile coolness, as well as water/moisture absorbency and antistatic property, thanks to the characteristics of special polymer used.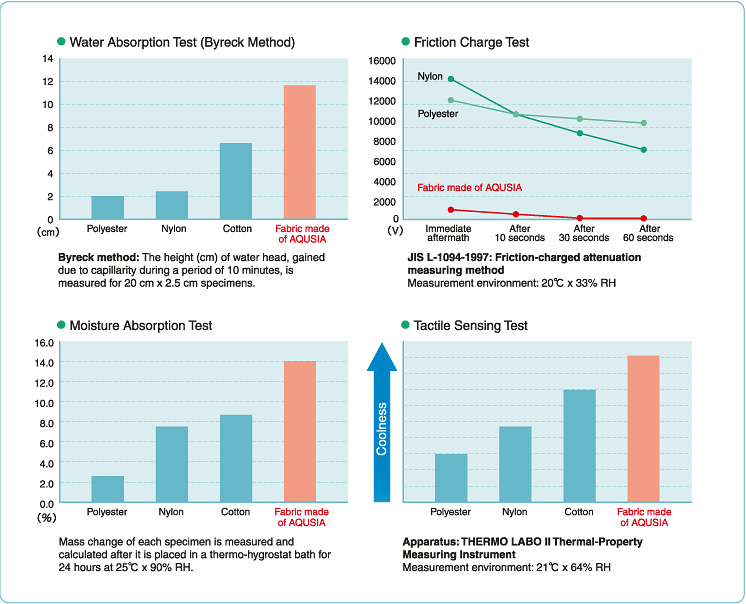 Retains the processability of conventional nylon for false twisting, knitting, dyeing etc.
Has the same level of quick-drying property as that of conventional nylon.
Non-irritating; safety confirmed.
Applications
Inner wear, pantyhose, tights, shoe materials, linings, shirts, uniforms, bedclothes etc.