High-Performance Conductive Fiber to Control Static Electricity Responsible for Various Problems
Features
Offers Sufficient Static Control Capability with Small Amount
Many blending methods are possible — blending at spinning, doubling, knitting and weaving stages.
Unlike conventional antistatic yarns or processes, blending only a few percent of Belltron produces excellent static control performance.
Changes in static control quality depending on the Belltron intervals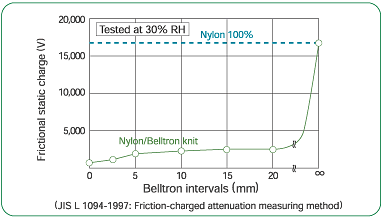 Examples of how frictional static charge attracts pollens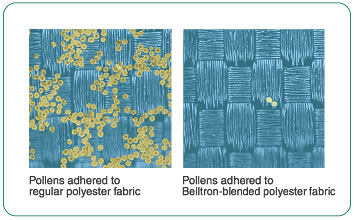 Controls Static Electricity Regardless of Environment
Possesses a double static control mechanism of grounding (transfer and diffusion of charge) and corona discharge (point discharge).
Controls static electricity even in a dry condition, thus enabling various combinations with aftertreatments such as water repellent finish, coating or lamination.
Highly Resistant to Washing, Flexing and Abrasion
Unlike carbon-coated fibers, no carbon particles can be removed from Belltron by rubbing.
The static control property is applied not by any aftertreatment, but by the unique fiber conjugation, thus maintaining an extremely stable performance even after washing.
Changes in the friction-charged attenuation made by washings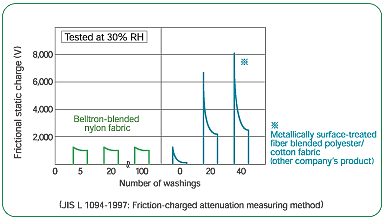 Cross-sectional photo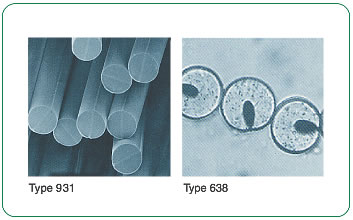 Comes in a Rich Variety
Belltron is available in more than 20 combinations of colors, polymers etc., offering a wide range of choices in accordance with intended uses and purposes.
Satisfies Various Evaluation Criteria
Belltron is able to meet different evaluation criteria in and outside Japan, such as surface resistance.
Belltron is Used in Many Different Fields
Apparel
Sweaters, ceremonial garments, school uniforms, fleece wear
Working Wear
Dust-free garments, work uniforms, lab coats, firefighter uniforms
Interior
Curtains, carpets, towels, blankets
Household Goods
Masks, antistatic brushes, aprons, gloves
Others
Office appliances, wiping cloths, filters, car seats
Cautions
In determination of product specifications, carefully check the test methods and criteria for static electricity stipulated in your country and/or abroad before deciding upon the blending ratio/method of Belltron.
The processing temperature, tension and humidity may affect the conductivity of Belltron. For this reason, the static control quality of the final product should be confirmed without fail. Please feel free to consult KB SEIREN for the confirmation test, since the company is equipped with various apparatuses for antistatic property measurement.
Because of Polyester Belltron's low tolerance to alkali, do not apply strong caustic reduction, frequent caustic treatment, or caustic treatment after bleaching or redyeing.
Nylon Belltron is less heat-resistant than polyester. Therefore, do not apply high-temperature thermosol finish. Also, because of its low tolerance to acid, avoid strong-acid treatment or repeated use of chlorine organic solvent.