Espansione is a thermoplastic polyurethane elastomer spunbond developed by KB SEIREN with its original technology. Thanks to its structure, which comprises randomly laminated fine continuous filaments of 100% elastic polyurethane, Espansione possesses many superb characteristics, such as high stretchability (about 400%) and flexibility, in addition to common properties of nonwoven fabrics such as air permeability and handling ability. Espansione is a high-performance material with excellent properties to cultivate a variety of end-uses.
Features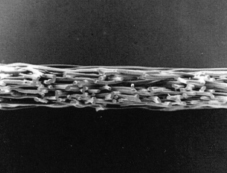 Electron micrograph of Espansione
(x 500, surface)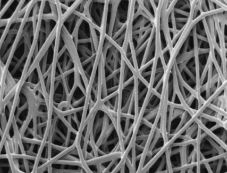 Electron micrograph of Espansione
(x 500, cross section)
Highly Stretchable
A high level of stretchability (approx. 400%), characteristic of polyurethane elastomer fibers, is available in all directions.
High Elongation Recovery
Espansione shows high elongation recovery, which is equivalent to or even greater than mixed fabrics of polyurethane elastomer fibers.
Suppleness
Made of 100% polyurethane elastomer fiber, Espansione is extremely pliable.
Air- and Water-Permeable
Fine filaments are laminated with only their intersections bonded, thus offering good air/water permeability.
Traps Dust
Densely laminated filaments prevent penetration of minute dust particles.
Fray-Free
Fused continuous filaments produce no fiber fragments, ensuring fray-free fabric edges.
High Coefficient of Friction
Made of 100% polyurethane elastomer fiber, Espansione displays extremely high slip resistance.
Easy Welding/Heat-Cutting
Espansione can easily be welded or heat-cut by using such equipment as high frequency welder or heater.
Sewing Possible
Unlike films, seams will not separate even when pulled.
Applications
Utilizing the unique characteristics of Espansione, markets for various end-uses as listed below have been developed by applying aftertreatments to the product and using it either alone or through combinations with other materials.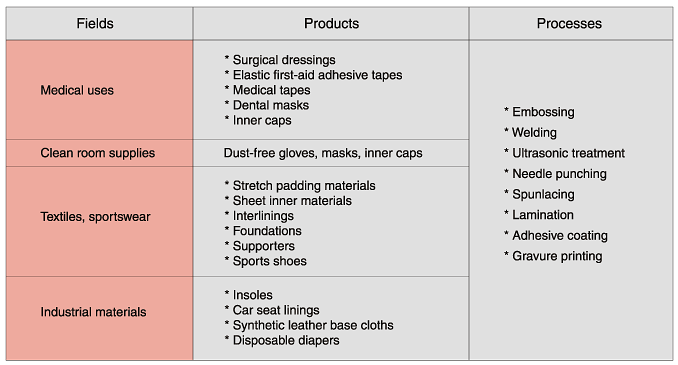 Care Instructions
Since Espansione is made of 100% polyurethane elastomer fiber, special attention is required as in the case of handling spandex.
Weather Resistance
When used for a surface, Espansione may gradually yellow and weaken after long exposure to light and NOx gases. (The degree of yellowing/deterioration is similar to that of spandex.)
Heat Resistance
Espansione should normally be used at temperatures below 100°C. It may be glued to each other at 110℃ or higher.
Chemical Resistance
Espansione suffers the same level of deterioration as nylon in concentrated acid or alkali.
Chlorine bleach deteriorates Espansione.
Espansione dissolves in such solvents as DMF, THF and MEK.