KB SEIREN, LTD. has developed "Gradio®", a polyphenylene sulfide fiber with superior heat resistance, by using its original technology. For industrial applications attracting increasing attention, KB SEIREN proudly offers Gradio® as a sophisticated fine-denier engineering plastic fiber, while further utilizing its unique technologies of fine-denier fiber spinning and composite fiber spinning to advance reduction of total fiber fineness, as well as single filament fineness, to the extent never before possible.
Features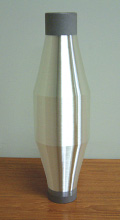 Heat resistance: High melting point of 285ºC, and operating temperature of 190ºC
Chemical resistance: Highly stable against acid, alkali and organic solvents
Flame retardancy: Exhibits high self-extinguishing property with Limiting Oxygen Index (LOI) of 35 or over
Fineness: Production possible for monofilament of 13 dtex minimum, and split yarn with single filament fineness of 0.2 dtex
Composite fiber production: Combination possible with other polymers to meet diversified applications and purposes
Excellent hydrolysis resistance, heat-retaining characteristics, etc.
Technical Description
Fineness (total fiber fineness, single filament fineness) enhanced with original technologies of KB SEIREN

A) Filaments
Monofilaments: 13 dtex/1f (filament diameter: 35 μm), 33 dtex/1f (filament diameter: 56 μm)
Multifilaments: 33 dtex/12f, 56 dtex/24f, 84 dtex/24f, 167 dtex/48f, 220 dtex/48f

B) Staple fibers
Regular type: 1.1 dtex X 3–5 mm and various others, 1.7 dtex X 3–5 mm and various others
Split type: 0.2 dtex X 3–5 mm and various others
Binder type: 1.7 dtex X 3–5 mm and various others
End Products
Filaments, staple fibers, fabrics (woven, knitted, nonwoven), braided cords/sleeves, paper
Applications
Filters (mesh and various others), membrane materials (separation membrane substrates, spacers), insulating materials, separators, automotive materials, etc.