Kalmitsu is a high-density polyester taffeta with a remarkable lightness of 35 g/㎡. This was achieved by the use of 17-decitex multifilament "Vega" developed by utilizing KB SEIREN's specific and unique technology. Despite its lightweight construction, the fabric seldom tears, moderately repels rain and wind, and yet remains super soft and smooth to the touch. These features help make Kalmitsu a successful hybrid of both function and comfort.
Polyester Multifilament "Vega"

Features
Extra-Thin and Extra-Light
The 17-decitex polyester multifilament "Vega" allows for both a marvelous weight of only 35 g/㎡ and a superb thinness of the fabric.
Durable (Tear-Resistant)
Excels in tear strength both warpwise and weftwise, greatly reducing fabric breakage by scratch.
Water-Repellent, thanks to High-Density Structure
The special weaving technology to produce this high-density fabric offers moderate resistance to rain and wind.
Soft Feel
The resiliency of polyester multifilament "Vega" provides a super soft and supple feel.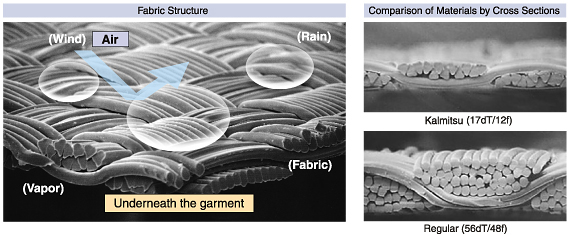 Applications
Kalmitsu offers a wide range of end-uses, from the apparel in general (sportswear, casual wear, coats, inner wear etc.) to the industrial field (umbrellas, shoes, bags etc.).