Features
Microbial Control and Deodorization
Provides an excellent antibacterial effect, preventing germ growth on textiles.
All levels of "SEK" standard provided by the Japan Textile Evaluation Technology Council (JTETC) — from the most moderate "Antibacterial Finish" to the strictest "Bacteria- Control Finish (Special Purposes)" — can be satisfied by using Liveftesh P at the desired blending ratio for each textile.
Note: Antibacterial performance may vary slightly with certain yarn combination, fabric structure, and the application of final products.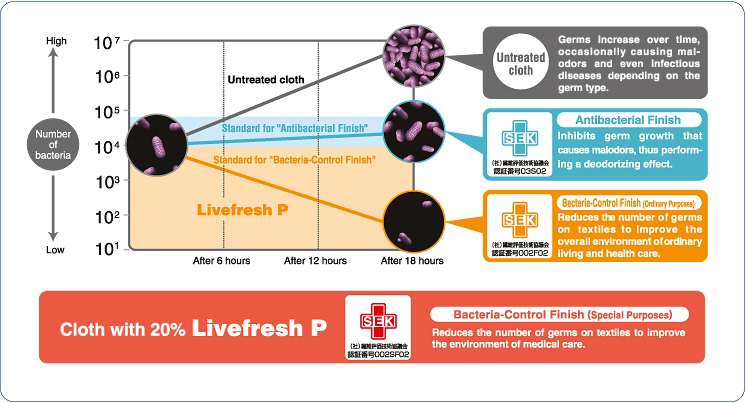 Safety
Can be used safely and reliably for nursing care.
Livefresh P has been tested by Japan Food Research Laboratories and the Japanese Society For Cutaneous Health, and confirmed to be safe and non-toxic. It can be safely used for nursing care in homes and in medical institutions or other health facilities.
Durability
The kneading of antibacterial agent has dramatically improved washing resistance.
Livefresh P has largely improved resistance to yellowing, which was a common problem of antibacterial polyester yarns. At the same time, its physical properties such as strength, elongation and shrinkage are almost the same as those of regular polyester.
End-uses
Sportswear such as sweat suits and shirts
Intimate apparel including lingerie and underwear
Lining for garments and hats
Bedclothes, curtains, and other home textiles
Working wear for nursing care, food industry etc.
General industrial materials such as shoe lining and bonding