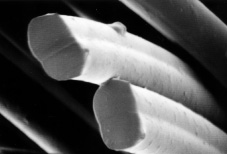 Espandy is a side-by-side conjugate yarn made by combining two original polymers with different physical properties in the spinning process. The difference in shrinkage of polymers results in crimps during heat treatment, giving stretchability to resultant fabrics.
Espandy is available in diverse variations to meet your product planning demand, from yarns for medium-weight fabrics to those with enhanced crimping potential designed for taffeta, as well as those for combinations with natural fibers.
Features

Highly Stretchable
Two polymers with different shrinkage cause a synergy effect of fine crimps in the heat treatment stage. This results in moderate stretchability of resultant fabrics.
Soft to the Touch
Enhanced stretchability improves softness and texture of resultant fabrics, making them more comfortable to wear.
Easy to Process
Espandy has a higher crimping potential compared with conventional products, lessening the risk of grains on the surface of resultant fabrics, which is a typical problem in weaving with stretch yarns.
Applications
Can be used in diversified applications such as shirt blouses, sportswear, inner wear, casual wear, and also industrial materials.