KB SEIREN, LTD. has developed "Zxion®", a polyarylate fiber with superb tensile strength and elasticity, by using its original technology. For industrial applications attracting increasing attention, KB SEIREN proudly offers Zxion® as a sophisticated fine-denier engineering plastic fiber, while further utilizing its unique technologies of fine-denier fiber spinning and composite fiber spinning to advance reduction of total fiber fineness, as well as single filament fineness, to the extent never before possible.
Features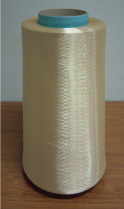 High tensile strength and elasticity: Tensile strength exceeds 30 cN/dtex, with elastic modulus of over 1,000 cN/dtex
Low dielectric constant: Excellent electrical characteristics
Low linear expansion: Allows only minuscule dimensional change by temperature
Fineness: Production possible for yarn of under 220 dtex in total fineness and 2.3 dtex in single filament fineness
Excellent heat resistance, acid resistance, resistance to cutting, vibration damping property and low water absorption
Technical Description
Sophisticatedly formulated and crystallized fiber, developed with advanced spinning and thermal processing technologies of KB SEIREN
Fineness (total fiber fineness, single filament fineness) enhanced with original technologies of KB SEIREN

Multifilaments: 1,100 dtex/96f, 560 dtex/96f, 440 dtex/96f, 280 dtex/48f, 220 dtex/48f, 110 dtex/48f, 56 dtex/24f, 28 dtex/6f and various others
End Products
Filaments, staple fibers, fabrics (woven, knitted, nonwoven), braided cords/sleeves, prepregs
Applications
Tension members (optical cables, heating wires, electric wires), FRP, rubber materials (for belts and hoses), printed circuit boards, protective gloves, fishing lines, belt slings, etc.